Post by nyx on May 4, 2019 21:11:08 GMT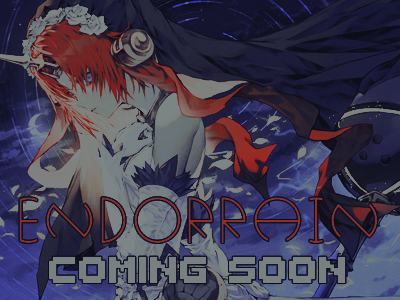 SITE NAME: Endorrain
HOST: Jcink (premium)
BASIC CONCEPT: See below the line for the "teaser" premise if you want to read it!

Endorrain will mainly be a fantasy site with sprinkles of sci-fi. It pulls the "trapped in a video game" theme from Sword Art Online, but mixes some D&D and Fire Emblem vibes with it.

"Players" (the characters) can choose from a list of species to play and then pick which class they want based on their preferred role (ex: if you are a Support role, you can choose a class like "Dancer", "Summoner" or "Time Mage").

There will be a multitude of quests and events that players may have the option of partaking in. This will not be a heavy numbers-based or grind-y type of roleplay because the focus is simply characters exploring a new world while trying to come to terms with the fact that death in the game is now permanent.

This is a very brief, none-detailed overview of the site. Feel free to contact me for more details!

STAFF NEEDED/RESPONSIBILITIES: I'm currently on the lookout for just about any help as currently, it's just me! Someone who's capable of coding or making graphics would be particularly helpful, though not a must. People who are particularly willing to contribute to world-building, plot writing, as well as quest and event creation would be awesome!

CONTACT: Feel free to reach out to me through this thread, message, or my personal discord which is nyx
#3003 . Even if you just want some more info, I'm happy to oblige!
---

[LOADING PREVIOUS SAVE]
[ERROR: NO SAVED DATE]
[LOADING NEW GAME]

[RENDERING ?@78/#487!655;4]
[SUBDUEING HOSTILE FAERIES]
[RENDERING TERRAIN]
[MODIFYING STATS]
[LOADING NEW GAME DATA]

> You spawn inside an entirely mirrored room. Your body is a shadow, dark and empty, no recognizable featuers aside from the general shape of your human form.

[GENERATING ACCURATE FACIAL MODEL]
[FACE SCANNER: SCANNING]
[FACE SCANNER: COMPLETED]

> The mirrors reflect an almost exact replica of your own face, though the rest of your body is still a shadow.
> You move your right hand to the upper right corner of your vision and tap the floating circle: a myriad of options flutters before your eyes.
> The shadow of yourself becomes flooded with colors as you shuffle through the different choices. You're able to pick just about anything, though you retain the same facial structure as you've always had. You put together what you like best.

>>> You cannot change your choices once you [ACCEPT].
>>> [ACCEPT]? Or [GO BACK]?
> You accepted, satisfied with your creation. Everything goes black.
> You open your eyes and find yourself standing inside a barren bedroom. A bed to your right, a dressed and closet across from you, and to your left: a desk with an [IMPORTANT LETTER] on it.
> You walk forward towards the desk.

>>> Pick up the [IMPORTANT LETTER]?

> You pick up the letter.
DEAR [PLAYER NAME],

WE ARE GLAD YOU HAVE DECIDED TO HELP US TEST OUT THIS EXPERIMENTAL PROGRAM. WITHOUT VOLUNTEERS LIKE YOU, WE WOULD NEVER BE ABLE TO MAKE PROGRESS IN FINDING ALTERNATIVE WAYS TO BOTH PRESERVE AND ENTERTAIN HUMANKIND. PLEASE REMEMBER, THERE MAY STILL BE SOME BUGS AND GLITCHES YOU NOTICE THROUGH YOUR EXPERIENCE. WE ARE TRYING OUR BEST TO ENSURE THESE ARE FIXED, SO BE [ERROR: DATA DELETED]......

[ERROR: GAMING BEING OVERWRITTEN]

………

[LOADING: NEW IMPORTED LETTER DATA]

AN ERROR IN THE SYSTEM. THE GAME IS NO LONGER A VIRTUAL SURVIVAL GAME. IT IS ONLY SURVIVAL. YOU DIE IN THE GAME, YOU DIE FOREVER. FOUR COUNTERS. FOUR RESPAWNS. THAT'S ALL YOU GET. NO TIMER. NO WINNING. ONLY LOSING. YOU ARE TRAPPED.

YOU ARE TRAPPED. YOU ARE TRAPPED. YOU ARE TRAPPED. YOU ARE TRAPPED. YOU ARE TRAPPED. YOU ARE TRAPPED. YOU ARE TRAPPED. YOU ARE TRAPPED. YOU ARE TRAPPED. YOU ARE TRAPPED. YOU ARE TRAPPED. YOU ARE TRAPPED. YOU ARE TRAPPED. YOU ARE TRAPPED. YOU ARE TRAPPED. YOU ARE

[ERROR: IMPORTANT LETTER CRASHED]
> The letter closes and an automated message from the [GAME ADMINS] pops up in your vision.
>>> Congratulations [PLAYER NAME], welcome to "Endorrain" !